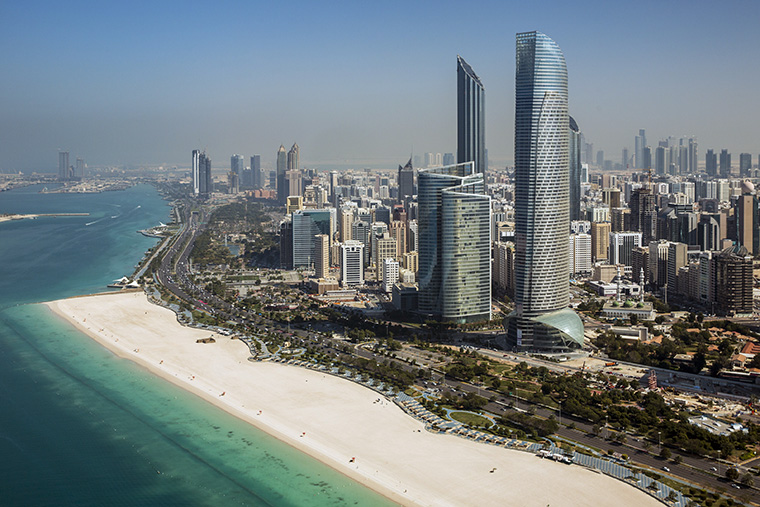 Abu Dhabi | Image Resource : abudhabi.com
Abu Dhabi is the capital of United Arab Emirates. It is famous for its magnificent places often visited at night. The plumage and beauty are irresistible enough to call for a second visit. This place is famous among people of India and even travellers for other countries. The rich heritages and recently established magnificent places are not only astounding but captivating.
For Indians, this place is like exploring the real beauty ever conceived. Here is a list of some of the amazing places of Abu Dhabi that one can visit for a pleasant night and joy that would never say good bye.
1. Ferrari World
Ferrari World is a branded theme park that indeed begets the fun of Formula One racing to Abu Dhabi and is one of the city's top places for people who are diehard fans of something thrilling. Children can try their newly learned driving skills on the Junior GT track, while adults can ride the Flying Aces rollercoaster that takes up the speed of 120 km per hour on a 52-meter loop which is the longest and tallest in the world. There is also a collection of Ferrari's cars that may date back to 1947.
2. Boat Tours
Besides Abu Dhabi's shining skyscrapers, boating in Abu Dhabi is equally famous and brings more fun. As one gets back to the ocean, the view of the city filled up with tall building is amazing like anything. Boating is affordable and people who love beaches can find this exciting. With innovated boating machines, floating among waves is very much fun, and children and adults loves it.
3. Yas Waterworld
Yas Waterworld is a famous water park. It is also adored worldwide as people whoever visits Abu Dhabi certainly comes here for fun and shares the thrill and fun with their friends. Yas Waterworld is filled with waterslide, an inner-tube river ride, the first hydromantic tornado that allows water rafting ride, and also the magnificent surfable sheet wave, followed by the Jebel Drop and a free fall speed water slide. There are shops and cafes where people would like spend time in. Furthermore, there are restaurants where delicious dishes are present for celebration.
Yas Waterworld | Image Resource : windows.net
4. Saadiyat Cultural District
Saadiyat Island at Abu Dhabi is about to become the cultural point of Abu Dhabi in the following years. The Louvre Abu Dhabi that would be opened in the year of 2017, the Guggenheim Abu Dhabi, and Zayed National Museum, which are both in construction process will be situated there only, and they all would definitely turn the island into the United Arab Republic's cultural and artistic hub. At this time, one can reach there to check out the art exhibitions of the Manarat al Saadiyat and it is certain that everything is so much enigmatic and enchanting that, people would feel like standing in paradice.
5. Heritage Village
The Heritage Village is like the Bedouin village that gives visitors an idea of Arabian life before it became famous for oil and other prominent events or works. It is located close to the oceans, by the beach of the city, which is a pleasant place to explore after a visit. There are shops selling exquisite objects of everyday life, followed by workshops where special men are there to demonstrate on the tradional weaving and living style of United Arab Emirates. So, as you got a fine idea on the amazing places of United Arab Republic, it's time to explore and Mumbai to Abu Dhabi flight ticket price is really low, so visit this place and create a memory for lifetime.
Mumbai To Abu Dhabi Flight Ticket Price | Image Resource : dreamicus.com
Save